San Jose Appliance Repair at it's greatest!
We are Yelp's top rated San Jose Appliance Repair company with 130+ 5-star reviews. Our focus is honest, prompt, and reliable service for all of your major appliances (and brands too). Our goal is 100% customer satisfaction – whether you call for advice on the phone or have us come to repair your appliance, we will ensure you're in good hands.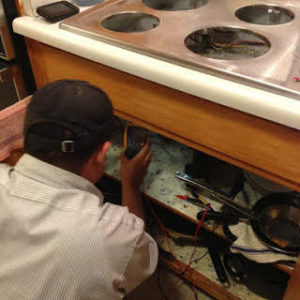 Gilbert has been servicing the San Jose surrounding areas since 1992 and continues to have the same passion for helping others from when he started. Nothing makes him more happy than a happy customer – happy customer, happy life!
All of our appliance repair repeat customers have come to know all of the family members who have helped build Advantage's success:
His son, Anthony, who started helping him since he could walk and paid his way through Santa Clara University by working in the field
His daughter, Lori, who quickly learned the appliance repair trade, how to run a business, and now is a Master's Graduate at San Jose State University doing big things
His father, Ray (pictured here), who is a retired San Jose and Bay Area native, but still makes time to help the business grow and is always looking to build positive relationships with our customers
Many more family members help in the background and are key to the success of Advantage Appliance Repair
Looking for Appliance Repair in San Jose, give us a ring!
Need help picking out your new washer? Need advice for how to diagnose your appliance over the phone? Or need someone who quickly go out and get you back up and running? Don't hesitate to call us at 408-266-9560!
Say hello, let us know where you found us, and how we can help!